Copyright 2022 © S K Yeo ERA  R006043J
16 years Full Time Experience
S.K.Yeo  Assoc Senior Marketing Director with ERA
杨顺锦,
 從盛港到榜鵝
房屋地产经纪中介, ERA
​
S.K.Yeo graduated from National University of Singapore (NUS) in 1995 and was an Executive Software Engineer before joining the Real Estate industry in 2006.  He and Jacqueline got married in 2001 and have two teenage children ( Polytechnic  & Army Boys).  
楊順錦在1995年畢業于新加坡國立大學, 在2006年加入房地產行業之前 在跨國公司擔任執行軟體工程師. 楊順錦已有14 年以上的房屋地產經驗。楊順錦和羅玲玲在2001年結婚,已有兩个上理工学院的孩子。
Mutiple Award Winning Agent
S.K.YEO AWARDS AND ACCOLADES
S.K.Yeo has 16 years of Full Time experience as Property agent since 2006.  He is experienced in handling Contra ( Buy & Sell at same time), Divorce, Bankruptcy, Letter of Admintration / Grant of Probate / Death / Order of Court cases.
Engaging S.K.Yeo means leveraging on his vast experience and knowledge of Selling a Property.  It will be absolutely stress-free for you as he will handle all details, heavy liftings, processes of your property sale for you.  Timeline, Planning, Preparation, Marketing, Buyer Qualifications, Viewing, Objection Handling, Negotiation, Administration, Submission, Processing, Completion and finally Handover. All Processes will be done professionally.
Many Satisfied Customers/ Testimonials
S.K.Yeo stays in Sengkang for 20+ years & Sold many properties in Sengkang/Punggol
S.K.Yeo stays in Sengkang for more than 20 years and in fact, many colleagues called him Seng Kang Yeo ( S. K. Yeo = Seng Kang Yeo).  He is Sengkang Punggol Resident Property Agent.
He stayed with his parents in Hougang before moving to Sengkang in 1999.  When he got married in 2001, he moved his new place in Sengkang near his parents. His family members also stays in Sengkang and has many friends in this area.
His wife Jacqueline ERA works with him together in the real estate business.  They are the Husband & Wife ERA team in Sengkang & Punggol.
Sengkang & Punggol are their home ground for more than 20 years!  They are intimately familiar with Sengkang & Punggol neighbourhood.  They have sold many HDB flats and private properties in Sengkang & Punggol.
As S.K.Yeo property business focus geographical area is this neighbourhood, he has established a Personal Network of Co-broking Partner Agents as well as a Pool of Ready Buyers available in Sengkang & Punggol.   This is certainly a great added advantage when it comes to Speed of Sale and Marketing effectiveness for your property in Sengkang & Punggol.
Advanced Digital Marketing Capabilities
S.K.Yeo was an IT Executive Software Engineer before he joined real estate, and his IT background was an added advantage especially in this digital age.
Besides the regular exposure to property portals and ERA huge digital network, he is also savvy in facebook marketing / google / pinterest / social media marketing.
Many Testimonials for S.K.Yeo ERA
PROVEN SALES TRACK RECORDS & STRATEGIES TO GET YOUR SENGKANG / PUNGGOL PROPERTY SOLD.  Contact S.K.Yeo at 93667373 for a non-obligatory discussion/whatsapp chat now ! 
​
If you are currently selling your unit with another agent and you have the following issues, you can contact S.K.Yeo ERA.
Call S.K.Yeo Today.  No obligation means you can choose not to engage S.K.Yeo if you find him not suitable.  Absolutely No questions asked.  If your property is not sold, you do not need to pay S.K.Yeo a single cent !  No Hidden Cost !  No Upfront Fees !  Free Enquiries.  
Contact S.K.Yeo ERA today
If you have no agent and have intention of selling your unit, and you have following questions, just contact S.K.Yeo ERA for a free chat / discussion.  (no obligation).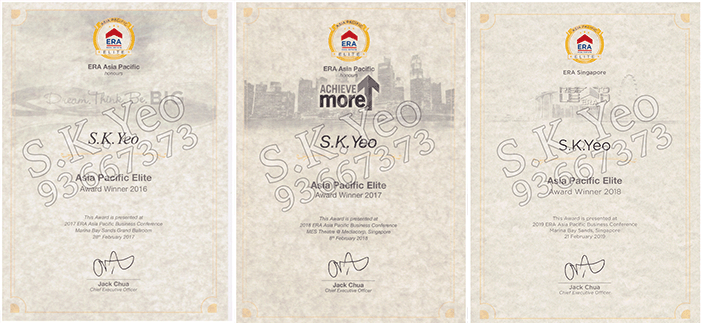 1ST TOP TRANSACTOR in Mar 2009
6TH TOP PRODUCER in May 2009
2ND TOP PRODUCER in June 2009
10th TOP PRODUCER in Aug 2009
15TH out of 7000 AGENTS, 2009
SAEA EXCELLENCE AWARD, 2009
TOP 100 ACHIEVERS in 2010
30TH TOP PRODUCER in May 2011
TOP 100 ACHIEVERS in 2011
1ST TOP PRODUCER, Jan 2012
MILLION DOLLAR PRODUCER, 2012
EMERALD CLUB AWARD, April 2012
TOP PRODUCERS 2013
TOP PRODUCERS 2014
TOP PRODUCERS 2015
TOP PRODUCERS 2016
ASIA PACIFIC ELITE WINNER 2016
TOP PRODUCERS 2017
ASIA PACIFIC ELITE WINNER 2017
TOP PRODUCERS 2018
ASIA PACIFIC ELITE WINNER 2018
TOP PRODUCERS 2019
TOP PRODUCERS 2020
ASIA PACIFIC ELITE WINNER 2021
​S.K.Yeo was also featured on Mediacorp Channel U and independent ThreeBestRated website.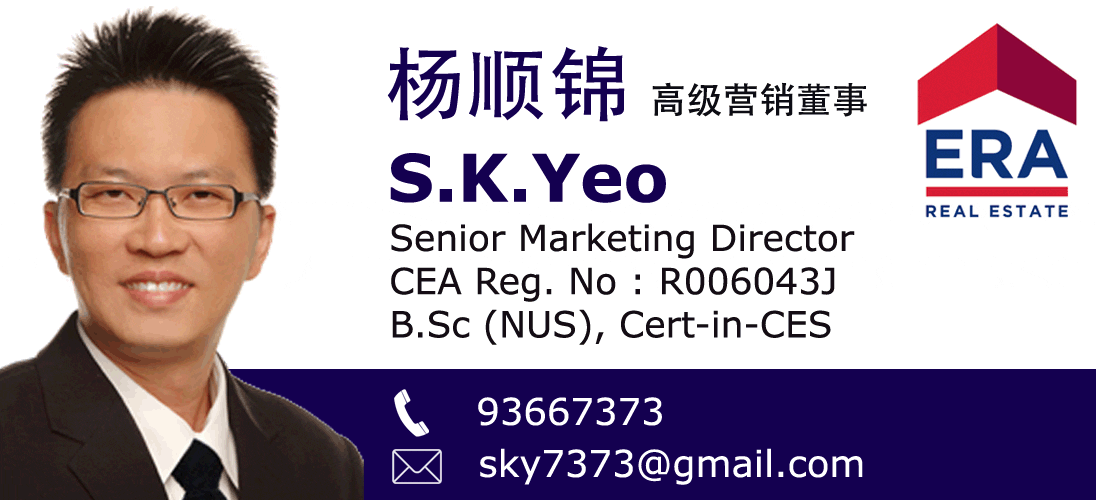 S.K.Yeo and his wife Jacqueline have been active in sports and adventures. 楊順錦和羅玲玲都喜歡運動和旅遊。
In December 2018, they ticked their bucket list for SkyDiving at Fox Glacier (New Zealand). 
S.K.Yeo started www.SengkangToPunggol.sg in 2016 and has grown its website traffic substantially from 10K visitors(2016) to 110K visitors (2019) to 293K visitors (2021).  The below website traffic chart snapshots. 
www.SengkangToPunggol.sg, is ranked Top 3 organically for Google/Yahoo with about 293,600 views& 191,000 visitors in a year and an average of 25,000 views & 16,000 visitors per month.   SengkangToPunggol Facebook Page have grown to have 9000+ Followers.
Mr & Mrs Loke, Sold Hougang HDB Flat and Bought Condo.
Previously Mr & Mrs Loke has got another property agent, he didnt managed to sell their unit after many months.  
They were recommended by their family member to contact S.K.Yeo,   After engaging S.K.Yeo, he advised them to use adjustment strategy that enabled them a quick sale. 
" S.K. presented our house very well, and we were able to sell our EA within 2 weeks. I would definitely introduce him to my friends as he is professional and friendly. "
​
Mr & Mrs Kalamogan, Sold HDB Flat and Bought Resale HDB.
He is very responsible and diligent person.He goes all the way out and work professionally.  When we are doubt, he will come and clear our doubts.He almost spent hours to work out our financial status and explain very clearly.
He even takes his time even to the cpf board to check our status of selling our flat with us. He is very helpful and always attend to our inquiry without any hesitation. He is a very sincere and didicated to ERA.we will not hesitate to recommend to any clients who wish to sell their flats.He sold our five room flat as we ask the price and did his best to get the price we asked.we wish all the best to Mr .S.K.Yeo.
Mr & Mrs Ng, Sold Sengkang HDB Flat and Bought Resale HDB.
I googled and chanced upon SK Yeo while on a lookout for an agent to market and sell my unit. Being a first time seller, there were questions and doubts which I am not sure of and having chatted with a few agents, SK was among the few who is friendly and patient in answering my questions. 
And so we decided to engage his service. He did not take too long to sell our unit. After sold, he constantly keep us updated of the selling progress, help us keep track of the timeline and drop us reminder to get certain things done. He also offer help in my buying process when I told him I am stuck with the application. 
Overall, I would say it was a smooth transaction from beginning to completion. Thank you so much SK :)
Mr & Mrs Diego, Sold Sengkang HDB Flat and Bought BTO Punggol HDB.
"When I received a letter from HDB to collect the key of my new BTO early May 2021, it also means that I need to start selling off my then 5-room HDB home in Sengkang quickly within 6 months. 
And SK is the right answer to my needs. SK is very professional, well organized, and always make sure that we are understand, well updated, and well prepared in attracting the potential buyers with the right price offering, and in navigating through the sale process. 
And SK is also highly well-versed in Sengkang - Punggol area. And his magic works, my unit was then sold-off on the first viewing, at a good price. The sale process went smooth and completed within 3 months after that first viewing. 
Happy to deal with SK. I highly recommend SK for any prospective sellers/buyers, especially in Sengkang - Punggol area."
Mr & Mrs Low, Sold Punggol HDB Flat and Bought Punggol Resale HDB.
"我的屋子找了两个都卖不出去,最后找到杨先生和杨太太,终于把我的屋子卖掉了,他们夫妻很专业,有时间观念,有责任感,很有耐心,真的很赞,,我家人都很开心能遇到这样好的房屋经纪卖房子,一定要找他们,绝不后悔。 最后在此再次感谢 杨先生和杨太太  祝福你们全家 平安快乐。 
Previously I found two other agents to help me sell my house, but they couldn't sell it.  
Finally, I found Mr & Mrs Yeo and they finally sold my house. This husband and wife team are very professional, have a sense of time, have a sense of responsibility, and are very patient. They are really awesome! My family is very happy to meet such a good agent. 
if you want to sell your house, you must look for them and you'll never regret it. Finally, thank you again Mr & Mrs Yeo. "
Mr & Mrs Ang, Contra Sengkang HDB Flat and Bought Resale HDB.
"SK is consistent as what he is known for, he will persevere to do his best with confidence in spite of challenges. He will also go to great length to see through his transactions, providing useful efforts and info even beyond his scopes, so that we can settle down in new location without much hitches. 
With his uplifting and 'never say die' attitudes, we are assured that our transaction is in good hands, and with these, he had inspired us as his clients, at a personal level, in our own endeavours too. "
​
Mr & Mrs Lee, Sold Punggol HDB Flat and Buying Condo.
"感谢你杨先生帮我们卖掉屋子! 强力推荐!非常高效率与专业!"
"Thanks S.K.Yeo Highly recommended for being so efficient and professional. "
S.K.Yeo has been gone through certification for Certified Customer Acquisition Specialist for Paid Traffic Mastery by Digital Marketer and Facebook Audience Customisation and Content Hacker.